KLOUT

KLOUT is a Spanish brand with a Galician stamp, born in 2020. Its beginnings are born from the merger of two families recognized for their long experience in the fashion and environmental sectors. With KLOUT they seek to unite both worlds that used to walk along different paths, adapting ecological awareness to textile production. Its main objective is based on the maturation of an environmental ethic, seeking to contribute to the protection of the environment from the fashion industry. Its logo is inspired by the leaves of oak, a tree native to the area where KLOUT was born and perfectly reflects this fusion of fashion and sustainability.

Spain Fashion Quality Seal
KLOUT garments have a distinctive seal of quality in Spain Fashion. These approved labels allow us to track the traceability of the product from its manufacture to its commercial sale. With this, KLOUT achieves transparency in the entire product process, from production, the sustainability of its garments, logistics or the working conditions of its workers.

KLOUT and its plantable labels
KLOUT labels are made of seed paper. These biodegradable labels are designed so that their useful life is ephemeral, since they can be planted once they are not needed. He currently uses Rudbeckia seeds.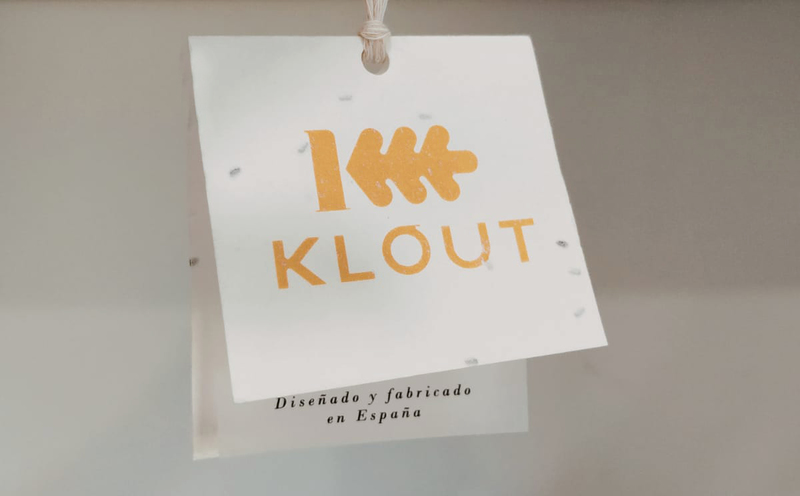 Be Kind Be Klout
Be Kind Be Klout is the motto of this brand. Klout has launched a collection of high quality 100% Organic cotton. This collection is made up of t-shirts and sweatshirts.
Sweatshirts are fashion
In recent years, sportswear have earned a well-deserved place in current trends. Klout with his passion for minimalist and sport fashion has created a collection of irresistible sweatshirts. They are timeless pieces in which the quality of the product prevails without neglecting the attractive design they present. In our online and physical shops we have Klout´s basic sweatshirts, to wear with jeans or cargo pants.
KLOUT's basic organic cotton t-shirts come in four colors. The Spanish firm has decided to bet on the diversity of bodies not only in width but also in height. That is, we can find your shirts in up to three different lengths, according to the client's needs. With KLOUT you will find your ideal basic t-shirt. In addition, the t-shirts are presented in a reusable bag format, also made of organic cotton, thus eliminating plastic throughout the shipping and packaging process.

Jackets, Shirts and Sweaters Made in Spain
KLOUT´s jackets, shirts and sweaters are manufactured and produced in Spain. These are excellent quality garments that are made with every detail in mind.
With KLOUT, you can discover perfect plaid shirts to match your favorite jeans. You can wear them open over a fashionable t-shirt or closed for a more formal look. Also, you can find slim micro-drawing or plain shirts to look elegant at any event or meeting. No matter what shirt you are looking for, with KLOUT you will find the perfect one for you. Its soft and light poplin fabric will make you not want to get rid of it.
To combine with those shirts or with the coolest t-shirts, KLOUT offers us a wide range of top quality knitted jumpers. These sweaters are made specifically in Galicia, the birthplace of the brand. On TRENDclic we have the best models of KLOUT jumpers: V-neck, crew neck, jacquard and fantasy for your most daring looks.

On TRENDclic we offer you
the best fashion from KLOUT
Take the opportunity to purchase the brand's fashionable mask, approved by the EU and resistant up to 25 washes. Sign up now for our Newsletter and you will get an immediate 10% discount on the entire new KLOUT collection. We have an Express shipping in 24/48 hours.
Come and meet KLOUT, the new fashion brand !